Senior Companion Care Services in Wheatfield, NY
When one has reached retirement and entered their senior years, they'll wish to enjoy the rest of their life in their own Wheatfield, NY home. For most, countless years have been spent there and memories created while enjoying the company of their loved ones. However, as years go by, they may find that their social circle is shrinking, perhaps their spouse is no longer with us, or their family lives out of town or isn't able to visit as frequently as they used to. They would still like to stay in their own home, but miss out on the senior companionship and social activity they once so frequently had. That's where The CareGiver's Choice comes in.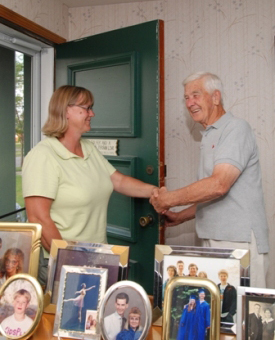 What Are Elderly Companion Care Services?
Simply put, it is time spent with your loved one. Whether they are lonely and just need someone to talk to, or someone to help them with everyday tasks that you cannot be there for. Our highly trained team of caregivers will be there to assist and brighten their day. Each cargiver offers an abundance of experience with senior companion care. They know exactly how to tend to their needs and help them age with love, care, dignity and independence.
Companionship is just a small part of what we do. We also offer services such as:
Administrative Assistance (Bill Paying, Writing Letters, etc.)
Appointments (Doctors Visits, Hair, Senior Centers, etc.)
Light Housekeeping
Meal Planning & Preparation
Provide Medication Reminders
And More!
Learn More About Wheatfield Senior Companion Care Services:
Whether they have just entered retirement and simply want to replace the companionship of former work colleagues, or are in need of a helping hand, we're here for them. Your loved ones have sacrificed so much for you and we realize that with your busy life, it may not be feasible to provide them with the elderly companion care that they deserve. With a call to The CareGiver's Choice, you can help make their day brighter with a caring companion, allowing them the independence of home living as opposed to a retirement home.
Start a Custom Care Plan Today
We would love for the chance to tell you more about our services and how we can help your loved one. Reach out to us today to schedule a free consultation to discuss our Wheatfield, NY elderly Companion Care options in greater detail.