Caregiver and In-Home Health Care in Williamsville, NY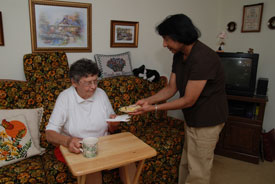 In a survey carried out by AARP, about 75% of seniors aim to stay in their homes for as long as possible. Additionally, many of the survey respondents agreed that it was getting more challenging to live independently. Despite these challenges, many seniors still want to live in their own homes. In-home health care primarily helps senior citizens with day to day activities and personal care. Our Williamsville caregiver services include:
Help with moving around the house, getting in and out of bed, and the shower.
Help with daily personal grooming such as bathing and getting dressed.
Help with preparing meals.
Keeping track of medication reminders.
Light housekeeping such as vacuuming, washing dishes, and doing laundry.
Friendship and companionship
Why opt for In-home health care?
Comfort
The key benefit of in-home health care is that your loved one gets to stay in a place where they are comfortable and familiar with - they can stay in their Williamsville home. They get to continue with their daily routines, sleep in their beds, and use their bathrooms.
It's a cost-effective alternative to hospital or facility care.
In-home health care is a cheaper option compared to facility care. Nursing facility charges cost up to about $550 per day, while in-home health care charges less than half of the said amount per visit.
Personalized focus and support
In-home health caregivers offer a meaningful and unique one-on-one customized care that builds strong bonds between the professional and the client. It builds trust and provides a sense of comfort.
Companionship
Research has shown that seniors stay healthier with more social interactions. Simple interactions such as a pleasant walk, playing cards, reading, meals, movies help a great deal with their emotional and physical health.
Medical management
If your loved one is on multiple medications, it can be hard for them to manage by themselves. An in-home health caregiver can make sure they take the right medication at the right time.
Independence
Independence is a significant issue for seniors considering care options. One considerable advantage of in-home care is that your loved one will have control over aspects of their day to day life. They get to manage their schedules, eat, socialize, and sleep whenever they want to.